If you are one of the freaks who loves shopping while sitting at home and are looking for products are reasonable prices, then this article about the DHgate website is perfect for you. It will answer most of the questions about this online buying platform – DHgate. And is DHgate legit and safe or not? Let us start with basic knowledge of the website and its history.
What is DHgate?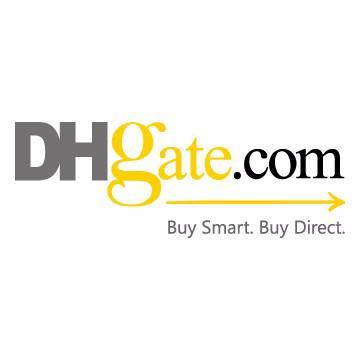 DHgate is an e-commerce marketplace. It is a gateway through which manufactured products are delivered from the suppliers to the retailers and customers. It is one of the largest trading platforms in the world.
DHgate is a China-based online store with its headquarters located in Beijing. It was founded by Diane Wang in August 2004, and since then it is progressing. The company has main offices worldwide, including the United States and the United Kingdom.
In the early years of DHgate, the company struggled a lot to maintain its profits, but with capital investments in 2006 and 2007, the online platform was able to withstand the challenging era. Saying so, DHgate was able to register 1 million users at the end f year 2008, which was a great achievement.
Since that time, DHgate is collaborating with small and medium size industries from across the world and is helping them make their international presence. With its continuous efforts to make B2B trading, import, and export easy for the local industry, DHgate has made its name in the world.
For this reason, recently, in 2022, DHgate was added to the list of Notorious Markets for Counterfeiting and Piracy by the Office of United Stated Trade Representatives.
Various Products available on DHgate
DHgate is an online shopping platform. Many people find an extensive range of products at cheaper prices. Some of the products available at the one-stop online shop are as below.
Electronics: Cell phones, laptops, cameras, and mobile accessories.
Fashion: Clothing, shoes, bags, jewelry, etc.
Home and Garden: Furniture, kitchen appliances, gardening tools, home décor, etc.
Beauty and Health: Skincare, makeup, personal care items, etc.
Sports and Outdoors: Sporting goods, camping gear, and fitness equipment.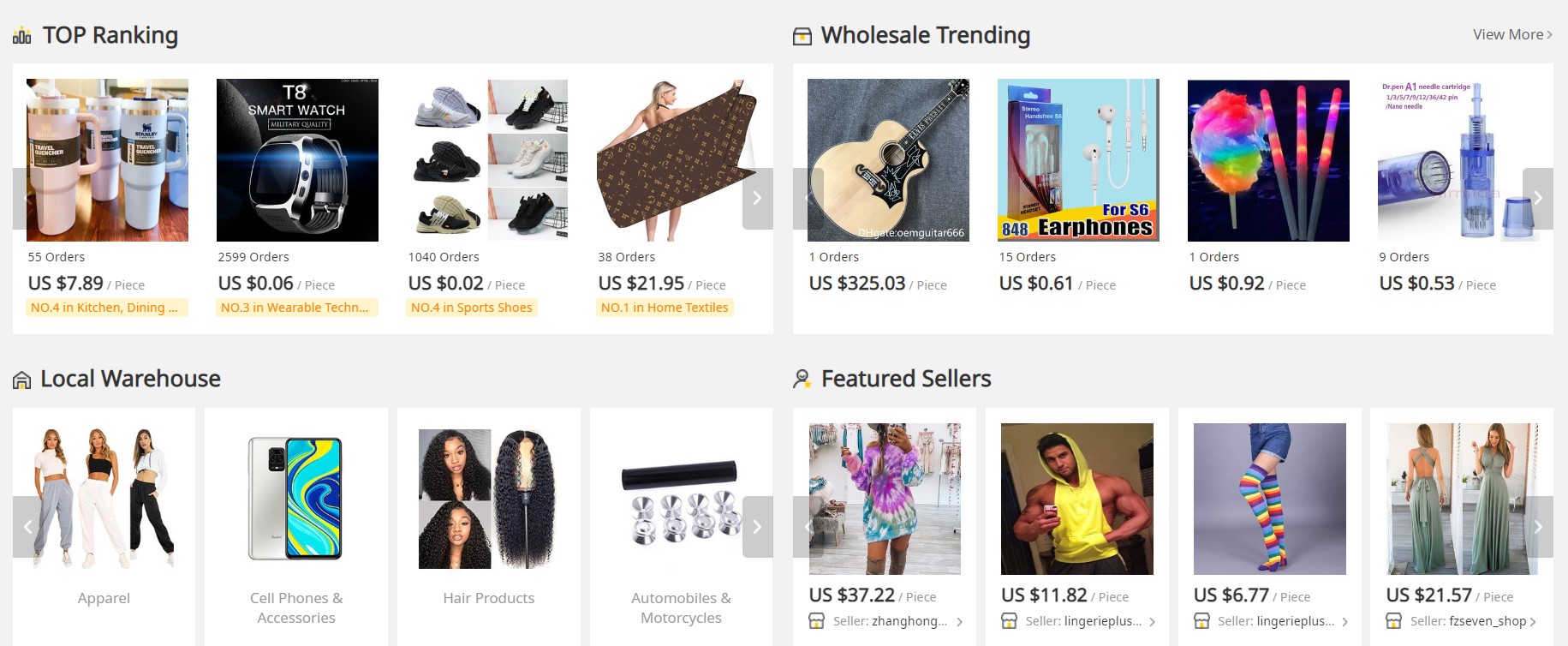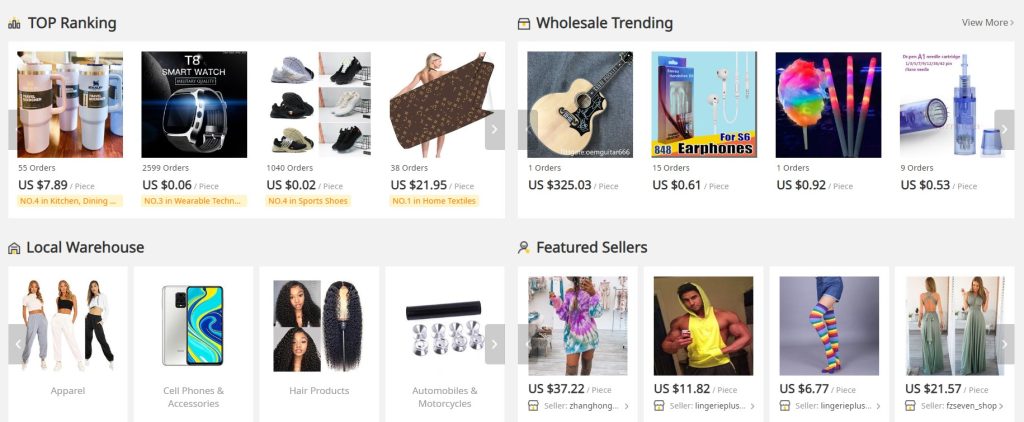 In short, DHgate has a wide variety of products ranging from budget to high-end products to make your life easy and convenient.
Is DHgate Legit?
Now to answer one of the most important questions. Is DHgate legit? Yes, DHgate is a legitimate e-commerce platform. It is a China-based company that facilitates small and medium size businesses all around the world. It helps connect buyers with individual sellers and wholesale suppliers.
However, it is an online platform, and one should always be careful when making online purchases. We recommend first carefully viewing seller reviews, product reviews, shipping methods, shipping cost, delivery time, return policy, and payment methods before making a payment for the purchase. It will minimize the risk of any fraud, and you'll get an authentic product.
Is DHGate Safe To Buy From?
Overall DHgate is a safe online platform. You can find trustworthy companies on DHgate that are selling products for many years and have positive reviews. The companies are reliable and provide end-to-end tracking of the shipment. Also, they send what they show you – high-quality products.


However, along with it, there may also be third-party sellers on the e-commerce platform that are showing exceptional quality products but are selling low-quality products. You need to be aware of them.
In short, you need to be extremely careful every time you plan to order some goods from DHgate.
On the platform end, DHgate performs its duties well. It offers buyer protection services to the buyers. It means it secures the buyer's money before the buyer accepts the goods they ordered.
Moreover, DHgate also resolves disputes related to the quality of products among the buyers and sellers. Also, it offers a money-back guarantee if the seller is at fault.
5 ways to find the best seller on DHgate
Finding the best DHgate sellers is one big task. You need to find the most authentic seller to reduce the risk of fraud or low-quality products. Here are a few ways that can help you find the best seller on the DHgate platform.
1. Make use of the search filter
Search filters on the DHgate site are a great help. You can use these filters to narrow down your search and sort out the "Bestsellers" or "top-rated sellers" on the entire website for a specific product.
2. Check customer reviews
Customer reviews and feedbacks are one great way to judge if you are dealing with a reliable seller or not. Tons of positive reviews mean the seller has satisfied a lot of customers in the past with high-quality or original products.

Negative reviews or ratings mean there is a chance you'll not get the product you desire, or the seller is not cooperative at all.
3. Check DHgate seller reviews
You can view the profile of the seller on the DHagte. Look if the seller has a history of providing customers with high-quality products and good customer service.
4. Research for competitor offerings
Another good option is to look for what other competitors are offering. Check different sellers for the same product and determine the reviews, ratings, competitive prices, and images. It will give you a good idea to choose the best one out of many sellers who claim to be authentic and professional.
5. Check for product information and images
Product information and images tell a lot about the product and the particular seller. A professional seller will always upload clear and real images of the products. Also, the seller will try his best to give a detailed description of the product in clear words so that no customer feels difficulty understanding what the product is.
On the other hand, fraudster sellers will upload some unreal pictures of the products which will urge you to place an order. However, the product you'll receive will be different. Moreover, they can also write a vague description of the item. That description can sometimes lead you to buy the wrong product, and later on, the seller's return policy won't apply to that item.
So, always check for real product images and clear descriptions.
How does DHgate works?
DHgate is a Chinese-based legit e-commerce marketplace. It is enabling small and medium size businesses to sell their products at the international level. Here is how DHgate works as a bridge between the buyers and the sellers.
Suppliers ( wholesale or individuals) list their particular products on their DHgate website.
Customers register to the website and make a DHgate account.
Customers look for the desired products through the search bar. They also sort and filter the desired products they are looking for.
When the customer gets the desired product, he places an order and makes a payment through a different DHgate secure payment method.
DHgate secures the payment and asks the supplier to arrange for that particular shipment.
The supplier prepares the order and ships it on time.
The customer receives the product, and then DHgate releases the payment to the supplier.
Customers can then leave reviews about the product and the seller once the purchase is complete.
DHgate Payment Methods
DHgate offers a secure payment method to its customers. There are multiple payment options from which you can choose. However, the payment methods available depend largely on the buyer's country.


Here are some of the supported payment methods DHgate supports.
Credit cards ( Master card, Visa Card, Discover, American Express, Diners, Union Pay)
E-wallets ( Skrill, Masterpass )
Paypal
Western Union
Money Gram
Wire Transfer
Web Money
DHgate Wallet
Online Bank Transfer
In addition to these, if you are an Australian buyer, you can also use payment options like Apple Pay, Poli, and Bpay. Different options make it convenient for the buyers to choose the one that suits them the most.
Can we trust DHgate for Credit Card information?
As most people prefer paying through credit cards, the common question that pops up in mind is, can we trust DHgate with our credit card information?
Yes, generally it is safe to use your credit card for DHgate payments. It is because DHgate follows a buyer protection policy, according to which the payment is not released to the seller until the customer receives the order and is satisfied by it.


However, it is always recommended to pay through DHgate payment methods and not pay the seller directly in any case. It is because, if the order you placed does not arrive or, it does not match the product description, or is of low quality, then you won't be able to get DHgate buyer protection, and your product won't be replaced or refunded.
How To Use DHGate Buyer Protection?
The safety and satisfaction of customers are the top priority of DHgate. For this purpose, DHgate offers a buyer protection policy to its customers. This customer service pledge makes it easier and more secure for customers to buy authentic products at the convenience of their homes and request a refund if the product is not up to the mark.
DHgate buyer protection allows the buyers to get a full refund if the customer claims not to have received the product. Also, it allows the customers to get a full or partial refund if the products received are not similar to as described in the product description. In this case, you can keep the product and get a partial refund or you can return the item to get a full refund.
Here's how DHgate buyer protection policy works.
Place an order for the item you are willing to buy on the DHgate website and make payment through DHgate's secure payment methods.
Upon receiving the product, ensure that the product matches the actual product description and the product quality is as you expected.
If there is a problem with the product or you did not receive it in the first place, you can open up a dispute with the seller.
If the problem you are facing isn't solved by the seller or the seller fails to satisfy you with his response, you can refer to the return and refund policy of DHgate and can request DHgate mediation.
DHgate will evaluate the situation and evidence from both sides and will suggest a solution for the seller as well as the buyer.
However, one thing to keep in mind is that DHgate buyer protection only works for orders made through the DHgate platform. Also, damage or loss of products during shipping carrier is not covered in this policy.
How to open a Dispute on the DHgate platform?
If you do not receive the order you placed, or the item you received does not match the product description to your expectations, you can always open up a dispute with the seller. The dispute cases should be opened up within 7 days of receiving the product. Also, there are some limited categories on which you can open up a dispute.
To open up a dispute with the seller to get a partial or full refund; you can follow these steps.
Sign in to your DHgate account.
Click on the "My Orders" tab in the top right corner.
Select the order you want to open a dispute for.
Click on the "Open a Dispute" option.
Select or write down the reason for opening the dispute.
Upload pictures of the evidence.
Confirm your proposal.
Click on the "Submit" button.
Wait for the response from the DHgate team. They will check all the evidence and get back to you and the seller with a legitimate solution. In most cases, buyers as well as most sellers are unsatisfied with the final decision the DHgate platform makes for both parties.
Top 15 DHgate Alternative websites
Some people are concerned about the safety and legitimacy of DHgate. For this reason, people look for the best alternative websites for DHgate. Here we are providing some of the top DHgate alternatives that can help you find quality products while sitting at home.
Ali Express
Amazon
eBay
Banggood
Walmart
Alibaba
Taobao
Tmall
Gearbest
Lightinthebox
1688 COM
Made-in-China
Tomtop
Chinabrands
How long does DHgate take to ship?
The shipping time of the DHgate depends on several factors. Some of the factors are as below.
Shipping method
Seller's location
Buyer's location
However, on average it takes 20-45 days for DHgate to ship a parcel to a particular location. Moreover, DHgate standard shipping is affected by public holidays, customs, and some other external factors. But, customers can always communicate with the sellers about the expected delivery date of the items.
The shipping company that DHgate trust for its deliveries is ePacket and China Post. And the shipping fees depend upon the location and time of delivery.
Can a customer get scammed on DHgate?
Yes, there are chances a customer can get scammed when he buys products from DHgate. No online platform is completely safe. Although DHgate has great security measures, still chances prevail. Some of the ways customers get scammed and how to avoid them are as below.
Counterfeit Products
There are some cases in that sellers imitate products that are designed to look like the original or real product. However, in reality, the product is of low quality and is not worth the price. Also, the product can be damaged or needs repairs. To avoid such a situation, it is always better to go through the seller and product reviews other customers have left. It helps a lot.
Hidden fees
Some sellers might charge hidden fees such as delivery fees, custom clearance fees, etc. They won't tell the buyer at first, and when the buyer receives the product, he has to pay some unexpected cost. So it is advisable to first discuss all the hidden costing with the seller before placing the order.
Non-delivery of Goods
At times the situation can arise that the buyer pays the seller from his direct links and do not send the good afterward. At this time, the buyer won't even receive buyer protection from DHgate and will lose the money he paid for the product that never arrived.
Misinterpreted products
Some sellers misinterpret the product they are selling. They will write a description in a tricky way so that the buyer will be trapped and will place an order. For example, for an "Xbox accessories box", the buyer might think he is ordering all the accessories boxes of Xbox, however, he may receive only an empty storage box. To avoid this scam, one should always read the description beforehand and contact the seller for a proper understanding of the item.
Payment Fraud
There were some instances of payment fraud that customers experienced. The credit card information of the buyer was used to make payments through the platform. DHgate took strict security measures in this regard. However, one should always be careful when paying through credit cards on online websites.
Pros of Using DHgate
DHgate is such a large marketplace that all real online sellers try their luck on it. There are a lot of pros for online buyers as well. Some of them are listed below.
Direct Access to the Manufacturers
You can find product manufacturers on this website. Manufacturers publish their products on the platform and earn good money along with some reliable clients.
Direct access to manufacturers means you are sure to get a high-quality product compared to the one you buy from a third-party person.
Wide range of products
DHgate has sellers from all around the world. These sellers offer different products ranging from small pins to large electronic products. In short, you can find almost everything on this platform as DHgate caters to a wide range of products with different price ranges.
Safe and secure payment options
DHgate offers safe and secure payment options to its buyers. You can choose from a wide range of payment methods, whichever is feasible for you. Your credit card information will also be secured by the website using advanced technology.
Competitive prices
On DHgate you will find competitive prices for the products. There will be many online sellers who will be willing to sell their products. So they surely offer competitive prices compared to other sellers. Moreover, these prices are often lower than the prices of traditional retail stores.
Buyer protection
Buyers have many advantages of using DHgate. One among many is the buyer protection policy. Payments of the customers are secured by the DHgate until the customer is satisfied with the product he ordered.
High-quality products
DHgate follows a strict quality control process to ensure that the products customers buy are of food quality. However, there are always chances of counterfeit products, so you should always be careful before you order anything.
Global shipping
Global shipping is one of the plus points of DHgate. It offers shipping in more the 200 countries and regions worldwide.
24/7 customer support
DHgate offer 24/7 customer support to its buyers and sellers. You can call or email them any time, regarding any type of query, and they will get back to you as soon as possible.
Customer reviews
Customer reviews are a great help for new customers. DHgate gives customers the option to leave a review about the product they have bought from the platform. Positive or negative reviews can help new buyer to decide whether to order from this seller or not.
Easy Navigation
DHgate is an easy website. It is user-friendly and offers an easy-to-use search feature. Moreover, it offers sort and filter options, which can help buyers choose among the products.
Conclusion
In conclusion, I would say that DHgage is a safe and legitimate website for ordering products online. However, like similar international online retailers, it is very important to check the seller you are buying products from and the payment method you are following. Also, check if the seller provides a refund guarantee in case the product does not arrive or is not up to your mark.
DHgate tries to protect buyers in every possible way it can, but by following certain guidelines we have given in the article, the buyer can help ensure a safe and successful shopping experience on DHgate.
Frequently Asked Questions
How to cancel an order on DHgate?
Canceling an order on DHgate is quite simple. Follow the steps below to cancel an unwanted order.
1. Log in to your DHgate account.
2. Click on the "My Orders" option in the top right corner.
3. Select the order you want to cancel and click on "View Order Details"
4. Click on the "Cancel Order" or "Cancel Item" option.
5. Write or select the reason for cancellation.
6. Wait for the seller to approve or reject the cancellation request. If the seller approves the cancellation request the order will be canceled and you will be given a guaranteed refund.
Keep in mind: Not all orders can be canceled. Cancellation depends upon the status of the order and the agreement between the buyer and the seller.
Why are products on DHgate available at cheap prices?
There are several reasons you can find products at relatively cheap prices on DHgate. Some of them are as below.
Manufacturers are the sellers
On DHgate most of the sellers are the actual manufacturers of the product. There are no intermediaries involved in the process hence saving a lot of overhead costs.
Lower overhead cost
DHgate is an online platform, which means all the cost of operating a proper department store is saved. Hence, the prices of the products are less compared to a local retail store.
Volume Discounts
DHgate follows the B2B model. When the customer orders products in large quantities, there are chances of better price negotiations which means customers will also get the product at reasonable prices. Also, manufacturers offer discount deals to frequent customers.
Where is DHgate located?
DHgate is a Chinese e-commerce company. Its headquarters is located in Beijing, China. DHgate has additional offices in Hong Kong and Shenzhen.
Does DHgate provide a tracking number?
Yes, DHgate provides tracking numbers to its local as well as overseas buyers. Once the package is shipped, the buyer can use the tracking number to locate the location on the package. The tracking number is typically provided to the buyer 2-7 days after the package has been shipped. You can use the tracking number on the shipping carrier's website to monitor the delivery of your order and track its progress.
How to safely dropship on DHgate?
DHgate is a huge marketplace that cares about the safety and security of its customers. However, when making deals on the online platform, customers should always be very careful on their own. Here are some tips to safely dropship packages on DHgate.
Proper communication with the supplier
It is very important to have good communication with the supplier. You can know a lot about the quality of goods, the expected shipping time, supplier reputation, and much more.
Research the supplier
DHgate review sites and DHgate reviews are a great help when you are researching the seller and the products they sell. Always looks for negative reviews to learn more about the expected product you will receive. People write negative comments out of frustration when they receive a wrong product, hence they are the most real ones.
Use authentic payment methods
When you are paying for your order, always pay through DH gate's secure payment methods. Do not ever pay the seller directly out of the DHgate platform. Also, using PayPal and credit cards can be a safe option to consider.
Is DHgate authentic for buying branded stuff?
DHgate is a huge marketplace in China. You can find almost all sorts of products on this platform, ranging from branded products to local products. So the authenticity of the products can vary largely.
Some sellers on DHgate can sell counterfeit products in the name of genuine items. So, there is always a risk associated when you are ordering branded products from DHgate.