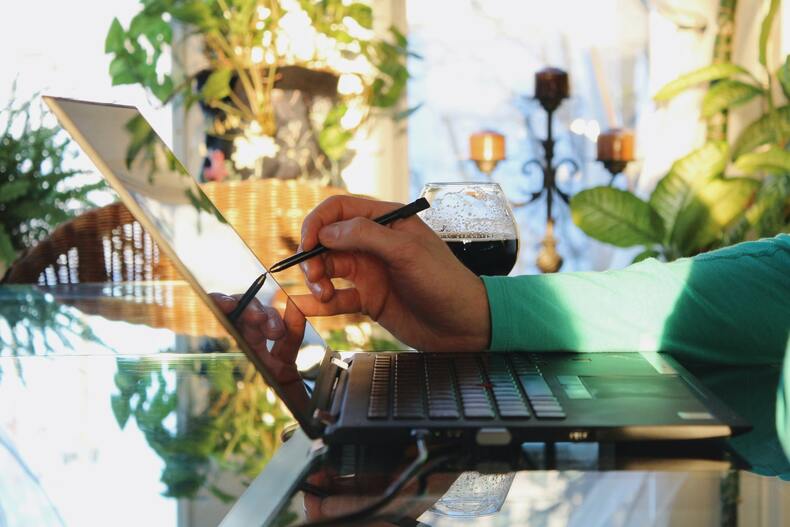 What is cloud computing and how does it work?
Anything that includes offering hosted services via the internet is referred to as cloud computing. Infrastructure as a service (IaaS), platform as a service (PaaS), and software as a service (SaaS) are the three basic forms of cloud computing services (SaaS).
It is possible to have a private or public cloud. Anyone on the internet may buy services from a public cloud. A private cloud is a closed network or data center that provides hosted services to a small group of individuals with specific access and permissions. The purpose of cloud computing, whether private or public, is to give quick, scalable access to computer resources and IT services.
The hardware and software components necessary to implement a cloud computing architecture are referred to as cloud infrastructure. Cloud computing, also known as utility computing or on-demand computing, is a type of computing that allows users to access resources whenever they need them.
Cloud computing, as compared to traditional on-premises IT and based on the cloud services you choose, can help you perform the following:
Cloud computing allows you to offload part or all of the costs and work associated with acquiring, installing, configuring, and administering your own on-premises equipment.
Enhance your agility and time-to-value
Rather than waiting weeks or months for IT to reply to a request, acquire and set up necessary gear, and install software, your company can start utilizing corporate apps in minutes using the cloud. You may also provide some people, like developers and data scientists, access to software and support infrastructure through the cloud.
Easily and cost-effectively scale
You can adjust capacity up and down in reaction to traffic spikes and dips in the cloud, rather than acquiring additional capacity that sits unused during dull periods. You may also leverage the worldwide network of your cloud provider to bring your apps closer to people all around the world.
1. QuickStart can help you advance your cloud computing career.
A respected certification is one of the finest methods to jumpstart your career in cloud computing. The best IT training tests will teach you about cloud computing, as well as the procedures and platforms you'll have to know before applying for a full-time cloud job.
Whatever cloud platform you're thinking about, there's a certification that can help you get the information you need.
AWS expertise is your passport to a successful cloud computing profession. It is one of the highest-paying skills and expertise accessible in the United States. Our AWS certification is structured into many tiers to provide you with a complete AWS skill set at a reasonable educational pace.
Azure is a cloud-based application development and maintenance certification for IT professionals and developers. You can give cloud services via the internet if you master Microsoft Azure, which is a public cloud. Train to work for a fast-paced cloud provider, where you'll be in charge of a prominent cloud-using company's hardware and software demands.
ITIL certification is divided into five levels, beginning with a basic ITIL curriculum and progressing to more complex topics. Integration with various digital applications and platforms is a priority of ITIL version 4. It is created and built in such a way that students can readily recall supplied material and that courses build on previous tests. It consists of four primary ITIL life cycles.
2. Pursue a variety of cloud options.
Look to become engaged in a variety of cloud chances to broaden your cloud experiences and lighten the start of your cloud computing career. Working with non-profit organizations, for example, may provide you with hands-on experience and credible references, which you can add to your CV. Make it a mission to build a good, diverse résumé that highlights your talents and includes the professional experience to back up your abilities.
3. Get references from people you can trust.
With the correct references, you may take the first steps toward a fulfilling career in cloud computing. Take advantage of any chance to deliver cloud services, regardless of the cost. Additionally, throughout your days of cloud training, create crucial relationships. When you do good work, clients and employers notice — and these same people may serve as reliable references when you qualify for professional cloud computing employment.
4. Obtain recommendations that are trustworthy.
With the correct references, you may begin your journey to a fulfilling job in cloud computing. Take advantage of any and all opportunities to deliver cloud services, regardless of the cost. Furthermore, during your days of cloud training, you will develop essential contacts. Clients and employers take notice when you do a good job, and these people can act as references when you seek a professional cloud computing job.
5. Create a dependable network
Your network is made up of the connections you've established in the cloud computing business over your educational and professional careers. Credible professional relationships might be great advantages whether you're changing jobs or hunting for a cloud computing job.
Maintain contact with people you've met through classes, networking events, and other cloud circles. These connections can help you get a job, recommend more educational materials, or just assist you to grasp cloud computing principles.
6. Maintain a steady progression in your cloud career.
Cloud computing is fast expanding as a relatively new, high-demand sector among businesses and small entrepreneurs. New platforms, security standards, access rights, and protocols provide new ways to advance and develop your cloud career.
It's critical to maintain your expertise up to date with frequent cloud computing training if you want to stay on top of the existing cloud environment. You can keep prepared for any developments on the horizon by strengthening your skillset.
7. Be tenacious in your actions.
Despite the fact that cloud computing employment possibilities are updated on a frequent basis, you should be aware that rejection is a common aspect of the cloud computing job application process. Accept each rejection as a learning opportunity during the employment process.
Keep your trust in the cloud computing expertise you've gained via your studies and certifications, and be prepared to use past work experience once you get that new job. Meanwhile, you may always earn more credentials to boost the caliber of your work prospects.
Related Reading: The Impact of AI in the Modern World